Review of Deploration for String Orchestra on Dimensions
(click the link to the magazine above)
A Superb and Exciting Program by Kantorei
A Review by Robin McNeil
Friday evening, December 13, I attended a performance given by the choral group Kantorei at St. John's Cathedral in Denver. Kantorei was formed in 1997 by Richard Larson, and it has rapidly developed into a choir of great merit that has gone on European tours. Richard Larson, after sixteen years conducting the organization, stepped down as the Artistic Director of the group following the 2012- 2013 season, and they are now looking for a full-time director. The Interim Director of Kantorei is Sarah Harrison, and the three paragraphs below are from her bio statement on Kantorei's website:
"Sarah Harrison is serving as the Interim Director of Kantorei for the 2013-2014 season. In addition to Kantorei, she is in her eighth year teaching choir and AP Music Theory at Cherry Creek High School in Greenwood Village. Under her direction, choirs have appeared at several regional and state conventions. Prior to Cherry Creek, Ms. Harrison opened and spent five years at Silver Creek Middle/Senior High School in Longmont, CO.
"In addition to school, she sings with various ensembles throughout the community and is an orchestral and jazz string bassist. Ms. Harrison has been a guest conductor and adjudicator in Colorado, Idaho, and Nebraska. Ms. Harrison is currently serving as Colorado's ACDA High School Mixed Repertoire and Standards Chair. She also served as Choir Director and Organist at Westview Presbyterian Church in Longmont and taught orchestra in Minnesota before moving to CCHS.
"Ms. Harrison obtained her Bachelor of Music Education degree, with instrumental and vocal certification, from St. Olaf College in Northfield, MN, and her Master of Music in conducting and music education from Colorado State University. She will conduct Kantorei for the entirety of the 2013-2014 concert season, while the group completes a search for a permanent Artistic Director and Conductor to begin in July, 2014."
Kantorei, according to the program notes, is a fifty-two member choir, though I counted fifty-three in the program. I bring this up only because it is a large choir, and large choirs sometimes have their own unique problems. For example, the larger the choir the more difficult it is to have good diction. But, the first thing that caught my attention Friday evening was that the diction of this choir is well-nigh perfect. To have such good diction, every member of the choir must be singing together so that syllables start at the same time and end at the same time. Once that is done, attention to phrasing comes next, but if the diction is excellent, chances are greatly increased that the phrasing will be good as well. It was. Keep in mind, that the program notes state that most of the members of this choir have some kind of extensive musical training. It shows.
Of course, the question that I am leading up to is why is Kantorei still looking for a new Artistic Director? Sarah Harrison certainly demonstrated that she is quite capable of filling those shoes. The blend of the choir, influenced by the scattered placement of different voices throughout, was excellent. The dynamic range that she achieved from this fifty-two voice choir was superb. I will say it again: she clearly understands diction, bland, dynamics, and phrasing. In addition she demonstrated a marvelous capability of obtaining those qualities from the choir itself. It was a wonderful demonstration of a keen musician's ear guiding a choir to give their utmost.
She opened the program with an exciting work entitled Hodie Christus Natus Est by the Argentine composer Ariel Quintana. Quintana is a relatively young composer, born in 1965, who is now working on his Doctorate in Choral Conducting at the University of Southern California. He graduated from the Buenos Aires Conservatory with degrees in piano performance.
This was the perfect piece with which to open the program because it is exciting and vigorous. Maestra Harrison stood in the center aisle of St. John's Cathedral, after dividing the choir; one half in the front of the church, and the other in the rear of the church. It was a very effective antiphonal performance that filled the church with a wonderful balance of the singers. Harrison seemed to have an ability to take advantage of the acoustics in St. John's, which can sometimes be a little difficult. It is an absolutely excellent piece that is full of deceptive resolutions of major and minor seconds that comprise much of the harmony.
One aspect of Friday evening's performance that took me quite by surprise was Maestra Harrison's persuasive combining of different works, six different compositions in the first combination, to comprise a section of the program. It was almost as if she considered the individual pieces to be parts of a suite. And, I hasten to point out, that the composers were quite disparate. For example, this first group of six compositions included the composers Marc-Antoine Charpentier (1634-1704), a Baroque composer renowned for writing liturgical music; Christopher Aspaas (b. 1973) who teaches voice and choral conducting at St. Olaf College; and Philip Lawson (b. 1957), an English composer, who is also a choral clinician. The works chosen from these composers were portions of the Mass and a Carol, the text of which was written by Jean de Brébeuf a French missionary who died in Canada in 1649. The combination of these works, even though each was so different, was quite effective, and certainly displayed a great deal of musical imagination and perspicacity.
Another item worthy of note, I believe, is that several compositions on the program required the use of soloists. That's nothing unusual, of course; however, the number of vocal soloists that participated was twenty-two. There were not just two or three soloists that were used several times. All twenty-two of the soloists sounded as though they had had extensive vocal training; i.e., degrees in voice. These were all members of Kantorei. None of them were guest artists. That is surprising depth even for a choir of fifty-two singers. In addition, I was surprised to learn that Maestra Sarah Harrison is an accomplished jazz bass player, and she demonstrated that skill, along with Kevin Gunnerson on percussion, in the performance of the late George Shearing's Christmas Carol Blow, Blow, Thou Winter Wind, which is based on the poem by Shakespeare. As my memory serves me, this work is from a set of Shakespearean poems that were set to music by George Shearing.
For my part, the most beautiful work on the program was Winter Song by American composer Gregory J. Hutter (b. 1971), who is a MacDowell Colony Fellow and a faculty member at DePaul University. This was another work on the program that was most certainly tonal, but where dissonances were created by the intervals of major and minor seconds that were sometimes deceptive in their resolution.
Another work on the program that was absolutely outstanding was entitled Northern Lights by Latvian composer Ēriks Ešenvalds (b. 1977). His orchestral, chamber and choral works have been performed worldwide. This is a very descriptive piece, and Justin Kerr, the tenor soloist from the choir, was spectacular performance. He has a crystal clear voice with effortless production.
This was an outstanding program. The music was well-chosen: there was absolutely nothing that was a cliché on this program. It was fresh and beautifully done. I must also mention the pianist with the group, Alyssa Rigsby. A graduate of the Jacobs School of Music at Indiana University, she is a wonderful pianist and seemed to fit very comfortably with everything that Maestra Harrison asked for. It has been a long time since I have heard this group, and I must emphasize that I normally associate a fine choir performance with a group of individuals that is smaller. As I said above, the larger the choir the less the musicianship shows through. I sometimes think that here in America everyone has the concept that huge choirs are always better because they make a bigger sound. This choir certainly made a huge sound, but I emphasize that I could understand every word they said, and their entrances, and periods of rest were truly superb. It left me wondering why Kantorei is searching for a new director. Why don't they just keep Maestra Sarah Harrison?
Publication: Journal of Singing
Author: Carman, Judith
Date published: March 1, 2013

HUTTER, GREGORY J. (b. 1971). CHICAGO SONGS (Carl Sandburg). For Soprano and Piano. E. C. Schirmer Music Company, Inc. (ECS Publishing), 2012.
Gregory J. Hutter is currently on the music faculty of DePaul University. His catalog of compositions includes many instrumental works in addition to these three song cycles. Many of the songs in these cycles are quite short, rather like snapshots of life. Others are somewhat longer, but all present the text as it is without repetition or embellishment. Vocal lines are set syllabically, and the piano parts are constructed mostly on one figure that reflects the essence of the poem and underlies the entire song. The compositional style is somewhat minimalist, and the vocal lines generally are conjunct (with a few skips here and there) and frequently doubled in the piano.
Some particularly effective examples are "Lost" and "Limited" from Chicago Songs, "Window" and "Nocturne in a Deserted Brickyard" from Fogs and Fires, and "Fog" from Handfuls. The incessant pattern of undulating repeated melodic minor seconds in the piano creates a real sense of being lost in the fog in "Lost." The dotted eighth/sixteenth patterns in the piano for "Limited" evoke the motion of the train headed across the prairie from Chicago to Omaha, complete with a lonesome train whistle near the end. Again depicting riding on a train at night in "Window," a repeated broken octave C5-C6 in the right hand creates motion as the watcher stares out the window into the night-"a great, dark, soft thing/ Broken across with slashes of light." "Nocturne in a Deserted Brickyard" is a quiet arioso-like song with a soft, slow vocal line over sustained chords in the piano. The familiar words of "Fog" are set above an accompaniment pattern that seems to creep forward as it descends a full octave by the end of the song.
The poetry of Carl Sandburg is not often set to music, though there are some fine examples. Perhaps this is because Sandburg's poetry is not particularly musical either in subject or form, and this makes the composer's job difficult, especially in matters of good word stress if the approach to the vocal line is purely melodic. The result can be awkward prosody, as is the case several times in these songs. I would add that although the composer wrote the songs for soprano, the subject matter of many of the poems seems perhaps better from the male perspective. For this reason, it would be interesting to hear them sung by a tenor.
Published on January 2, 2013
"Dimensions – Works for String Orchestra" = GREGORY HUTTER: Deploration; LOUIS BABIN: Couleurs, La Suite du Promeneur; REYNARD BURNS: Revolutions; ANDREW MARCH: Sanguis Venenatus; CLAUDE DEBUSSY (arr. RICHARD STOLZMAN): Maid with the Flaxen Hair; RUDY KRONFUSS: River of Time; DANIEL BURNWASSER: Flux – Czech Philharmonic Orch./ Robert Ian Winstin, cond./ Moravian Philharmonic Orch./ Petr Vronsky, cond./Gabriela Kummerova, Fr. horn/Slovak Radio Sym./ Kirk Trevor, cond./ Richard Stolzman, clarinet/Concordia Orch./Marin Alsop – Navona Records NV5895 (Distr. By Naxos), 51:26 ****:

This is a very nice set of works for string orchestra in a wide range of moods and colors by composers who are mostly lesser knowns. In it you will find something to please your tastes to be sure. The one exception to the "lesser knowns" issue, for me, is—of course— Debussy's Maid with the Flaxen Hair; but performed here beautifully by clarinetist Richard Stolzman in his own arrangement of this well-known piano work. This is a quite lovely arrangement well suited to Stolzman's unique and colorful tone.
The collection opens in very attention getting fashion with Deploration by Gregory Hutter. This is a fairly extended and beautiful adagio that reminded me a bit of the Barber Adagio in its plaintive (indeed "deploring") nature. Hutter is a member of the De Paul University, Chicago, composition faculty (my alma mater!) and has established a well-deserved reputation nation wide for his open, tonal and eclectic style. Hutter is represented on other Navona releases and this piece offers a great introduction to his music.
There are two works by Louis Babin. Both his Couleurs as well as the longer five-movement La Suite de Promeneur are very nice works with a slightly nostalgic feel. I was especially impressed with the Promeneur with its picturesque feel. Babin is a Canadian with an extensive background in television and film scoring but he is also an expert trainer in Apple "Logic Pro" software; quite the multi-talented figure.
Revolutions by Reynard Burns is a brief but pleasant work with dance-like qualities that sounds very suitable to all sorts of groups, from professional orchestras to higher quality school ensembles, befitting his own background in music education. I had previously been familiar with his very fine work, Flying, which earned him an award from the ASTA in 2001.
Sanguis Veneratus by Andrew March holds some of the same plaintive and slightly melancholic qualities as I admired in the Hutter work. This is a beautiful and reflective piece. March is a British composer who is best known for a series of impressive choral works. This somewhat religious work makes me definitely want to find out more about his music!
River of Time by Rudy Kronfuss is another very pleasant work; this time with a foot in the jazz door, a bit. Kronfuss is an Austrian composer whose own experiences have been in rock, jazz and classical. This brief, very soulful work also has a very nice French horn obbligato (not an English horn as listed on the back of the album!)
This collection closes with Flux by Daniel Burwasser, another quite enjoyable work that felt just a bit jazz influenced in places as well. Burwasser is a percussionist of note and teacher at Hunter College. This is an interesting piece that travels through many different moods and holds the interest throughout.
Navona always does a great job issuing compilation albums, thematic in a way that showcase new or lesser-known composers. I think anyone would find something to enjoy in this very fine collection. Personally, I thought the best pieces and which encourage me to learn more about the composer are the works by Gregory Hutter and Andrew March, although I, too, enjoyed each piece herein.
All performances are of the highest quality and string players and string teachers would especially like this release!
—Daniel Coombs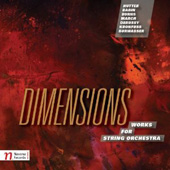 1} Gregory Hutter - Deploration
2} Louis Babin - Couleurs
3} Reynard Burns - Revolutions
4} Andrew March - Sanguis Venenatus
5} Louis Babin - La Suite du Promeneur
6} Claude Debussy - Maid With The Flaxen Hair
7} Rudy Kronfuss - River of Time
8} Daniel Burwasser - Flux

A fine grouping of new music scored for String Orchestra all, it seems, written within the last twenty-five years or so, except for the Claude Debussy of course which, in my opinion, doesn't really fit well within this collection, not only because it's in a completely different style and from what now seems like a distant era, but also because it's scored for clarinet and strings, and after forty minutes of solely string instruments, the clarinet sounds out of place and distracting. But then again, it's followed by the Rudy Kronfuss piece which is scored for English Horn and orchestra, but at least belongs with the rest of the rarely heard works by these fine composers who seem relegated to the sidelines. The ensembles range from the Czech Philharmonic Orchestra to the Concordia Orchestra, with conductors including Petr Vronsky and Marin Alsop.

Two works in particular deserve special attention. They are both exemplified by masterful writing and stirring emotive power, and embody what we've come to expect from music for String Orchestra alone. Gregory Hutter's Deploration and the Sanguis Venenatus by Andrew March both contain the je ne sais quoi essence that makes works for String Orchestra so appealing. Hutter's emphasis on the violas and second violins lends the whole piece a dark flavor, made the more poignant by the slowly unfolding fugal middle section of the work. And although far removed from it stylistically, the Andrew March composition conjures up an emotive soundscape similar to Barber's Adagio, if you listen to it that way. And you will be surprised to know how this piece came about, when you read the detailed notes found on the CD-rom portion of the disc, along with full scores and composer bios. So while you are listening to these pieces on your computer, you can dive right in by following the score.

Navona Records thread new ground here by presenting us with new, unheard music by unfamiliar composers. But I can pretty well guarantee you that some of them will quickly become new favorites.

Jean-Yves Duperron - January 2013
Thanksgiving Day weekend is traditionally a somewhat fallow period for classical music in Chicago. But the enterprising new-music ensemble Anaphora brightened a cold, rainy Sunday afternoon with a compelling and well-balanced program at The Green Mill, which offered two significant world premieres.
The most striking music on tap turned out, somewhat surprisingly, to be the most traditional and directly communicative. Gregory Hutter's Companion Piece, scored for clarinet and string quartet, is cast in a single movement. Beginning in hushed violins, Hutter's work is imbued with a Barber-like vein of dark introspection and rises from a heart-easing lyricism into a surprising emotional depth and expressive weight before descending again to a reprise of the quiet opening bars.
The repertoire is not teeming with contemporary clarinet quintets and Hutter, a DePaul University professor, should consider expanding this affecting, well-crafted music into a larger multi-movement structure. Some passing errant string intonation apart, the Anaphora players conveyed the emotional richness of the work, particularly clarinetist Cory Tiffin and first violinist Heather Wittels.
The afternoon's other world premiere was George Flynn's American Howl Quartet. Inspired by Howl, Allen Ginsberg's iconic 1957 poem, the work is scored for clarinet, violin, cello and piano, and combines a spoken recitation of Ginsberg's stanzas over and alternating with the music.
Flynn, former head of DePaul's composition department, did triple duty Sunday as pianist and reader — often simultaneously — as well as composer. One can imagine an actor or professionally trained speaker bringing more poise and timbral variety to the words, but in Flynn's dry-voiced, unvarnished fashion, the composer's intense narration made manifest his close identification with Ginsberg's poem.
At 35 minutes, Flynn's quartet was the largest work on the program and, like Howl itself, at times also felt a bit overlong and repetitive. Flynn's music often echoes Ginsberg's social protest and fantastical poetic flights with great skill. The quartet is cast in a jagged style with edgy, sharply rhythmic fragments for clarinet and strings set against a crashing, violently dissonant piano part, played with alarming intensity by the 64-year-old composer.
Yet while its's clear that Howl evoked an inspired and often imaginative response from Flynn, the music is not always sufficiently varied or contrasted in its raw discords and violent oscillations over the long haul. The more restrained final section ("Carl Solomon, I'm with you in Rockland") does offer some balm with its spare, hard-won solace at the coda. Flynn and his young colleagues (Tiffin, violinist Aurelien Pederzoli, and cellist Dan Klingler) gave this uncompromising music a fine debut, playing with full-metal advocacy.
Randall Snyder's Chicago Profiles, premiered by Anaphora last year, is set in seven short vignettes, each evoking the work of a different Chicago writer. Despite its economical scoring for clarinet and trombone, Snyder conjures a variety of diverse sections. The jaunty, jazz-inflected opening movement reflects the sardonic tone of Nelson Algren's Chicago: City on the Make. A lowing muted trombone paints a distant foghorn inspired by Carl Sandburg's poem, Fog. Short, sharply accented figures predominate in a section inspire by Sandra Cisneros's House on Mango Street.
Dreiser's Sister Carrie is painted with wistful overlapping, lyrical lines. The fifth movement (from James T. Farrell's A World I Never Made) is piquant and nostalgic while a section after Edgar Rice Burroughs' The Mucker is a rhythmic scherzo. The work concludes with a movement inspired by Ray Bradbury's Dandelion Wine, which effectively conveys the bittersweet introspection of this childhood remininscence. Trombonist Bryant Scott had a few rough moments Sunday but for the most part he and Tiffin provided admirable advocacy for Snyder's resourceful suite.
The concert opened with Uptown by Marcos Balter. Scored for nine players (string quartet, flute, clarinet, harp, piano and vibraphone), the work was debuted by Anaphora in 2009.
Uptown doesn't evoke much of the gritty milieu of the title Chicago neighborhood where it was being heard Sunday, but Balter's music is unfailingly engaging, with a meditative flow set against astringent string lines and punctuated by piano and vibraphone chords.
Michael Lewanski directed a fine, acutely balanced performance that conveyed Balter's luminous scoring and the atmosphere of spare, somewhat unsettled concentration. Cory Tiffin's understated virtuosity was the fulcrum of the performance – as it was all afternoon – with comparably polished playing by all, especially vibraphonist Christopher Jones and harpist Janelle Lake.
HUTTER Electric Traction. 1,5 Fantasy Pieces. 4 Still Life. 1,3,5 Skyscrapers. 2,5 The Melancholy Rags: Book I 4 • Andreas Hérm Baumgartner, cond; 1 Toshiyuki Shimada, cond; 2 Miroslav Šafář (ob); 3 Winston Choi (pn); 4 Moravian PO 5 • NAXOS 8.559349 (59:22)
This new CD is the first full release of the music of Gregory Hutter (b. 1971). I had enjoyed an aggressive orchestra piece, Urban Collision (2003), which appeared in 2006 on a multiple-composer compilation disc on the ERM Media label. Educated at Western Michigan, the University of Michigan, and Northwestern University, Hutter joined the faculty of DePaul University in 2002. This disc contains three overture-length works for orchestra and two multimovement cycles for solo piano. Two of the orchestral works, Electric Traction (2002) and Skyscrapers (2001), form, with Urban Collision , a trilogy of "urban-inspired symphonic works." It is a shame that these three related works were not able to be presented together on a single disc. Electric Traction is a vibrant showpiece, inspired by the composer's frequent railroad journeys on Amtrak's Chicago South Shore Line. Though the piece contains the sense of continuous momentum commonly found in train-inspired music, there is enough contrast of orchestral color and texture to sustain the interest and excitement for its entire duration. Hutter's Skyscrapers takes its impetus from the architectural designs of Ludwig Mies van der Rohe and is cast in two short movements. The first movement unfolds with a dark lyricism and urban coldness; it feels like an upbeat to the second movement's pounding excitement. These two orchestral works make a strong impression.
Still Life , a slow, diatonic movement for oboe and string orchestra, maintains a lush and lyrical mood rather statically for its entire duration. It is very reminiscent of the music of Welsh composer Karl Jenkins (creator of the ubiquitous Adiemus project), particularly the slow movements found throughout his large choral works (e.g., Requiem and The Armed Man ). The Moravian Philharmonic delivers performances that seem true to the spirit of these orchestral pieces.
Though performed with commitment by pianist Winston Choi, the two piano works are less engaging than Hutter's colorful orchestral works. The five-movement Fantasy Pieces is slow to gain momentum, although it does contain a compellingly dramatic passacaglia. The set of three piano rags are taken from what is a planned cycle of 12 concert rags in minor keys. Since Hutter was a student of "rag master" William Bolcom (and the eclectic and talented Curtis Curtis-Smith), it is a not a surprise that he would gravitate to this genre. Contrasting with the vibrant and well-known rags of Bolcom and William Albright, Hutter's rags are indeed more "melancholy." For a far more exciting recent addition to the ragtime genre, interested readers are strongly encouraged to explore a superb 2007 Bridge release (9223) of the piano music of William Bland, which contains his Fourth Piano Sonata, a set of four exceptionally compelling concert rags. The sound quality of the disc is generally satisfying, although the piano works could have benefited from some warmer mastering and a more resonant acoustic. Carson Cooman


Gregory Hutter is part of the American composers aiming at a musical style that is easily communicated, having been a graduate of the University of Michigan where his mentors included William Bolcom and William Albright. Born in 1971 he is today involved in education while following a path as a modernist composer happy to write in a tonal or atonal style. The present disc makes a good visiting card, its mixed contents taking us through colourful orchestral scores on a descriptive journey by Electric Traction and ending with the first book of The Melancholy Rags, the work inspired by Bolcom who had already contributed much in this genre. The five Fantasy Pieces for solo piano explore the keyboard's sundry traditions from modern Free Invention to a formal Passacaglia. Serenity opens Still Life, an orchestral work recreating a painting in sound, and taking the shimmering shades of the Impressionist era as the staring point. Scored for a solo oboe and strings, it is easy to like, and makes a contrast to the appropriately abrasive aspects of Skyscrapers. Relative newcomer, the Canadian pianist, Winston Choi, proves equally at home in the unusual quality of the Fantasy Pieces or the tongue-in-cheek Melancholy Rags. The Moravian Philharmonic Orchestra is not a household name, but they prove a very capable ensemble that has enjoyed critical acclaim in a number of European tours. The recordings come from a number sessions in the Czech Republic and the United States from 2001 to 2005, the presence of the composer in the producer's chair being the common factor. He has obtained excellent balance in his orchestral textures, the piano well up-front. A limited release issue easily obtained on Internet.
Chicago-based composer Gregory Hutter writes accessible music that's evocative of familiar sounds and scenes without being obvious about it. He pulls off a couple of neat tricks. First, he is among the few contemporary composers who manages to employ both traditional tonality and more dissonant harmonic idioms without seeming conflicted or, for, the most part, without losing the thread of a consistent artistic personality. Second, he employs Baroque procedures in new ways, neither sentimentally nor with a Stravinskian dryness; the music on this disc bears some affinities with that of John Adams in its treatment of older musical languages. Still Life (2004) is entirely tonal, using gradations of texture between the terraced quality of Baroque music and the soft focus of Impressionism to evoke the contrasts of color and texture in a classic still-life painting. Skyscrapers, a tribute to the modernist architect Mies van der Rohe, makes little use of tonal idioms, but is evocative of shapes and forms in much the same way, and the opening Electric Traction (2002), evoking a South Chicago train line, is clearly programmatic while keeping just clear of cliché. Perhaps the least successful works on the disc are the three Melancholy Rags, Book I, written under the influence of Hutter's ragtime-oriented composers at the University of Michigan, William Bolcom and William Albright: they're pleasant enough, but it's hard to say what they add to the ragtime genre. As a whole, the disc offers a program of orchestral and piano music that ought to be of interest to young performers in either medium who are seeking a new connection with audiences. Many orchestral premieres these days are recorded with comparatively inexpensive Eastern European ensembles (here the Moravian Philharmonic Orchestra of Olomouc), while North Americans (in this case Canadian pianist Winston Choi) take the smaller pieces. All acquit themselves solidly, and the disc is another strong entry in Naxos' impressively diverse American Classics series.
At the moment Naxos is the king among labels advocating American music, but they're starting to slip a bit, aiming more for breadth than depth, putting forth composers who might not be ready to have a full disc of their works unleashed on the world. The music of Gregory Hutter (b. 1971) is a case in point. The orchestral works, Electric Traction, Still Life, and Skyscrapers show the man's greater composition abilities with a full orchestra, though I thought that the garrulousness of Skyscrapers a bit reminiscent of the sturm und drang petulance that came out of the works of Scandinavian composers in the 80s and 90s and not quite nearly as original. Hutter's Electric Traction (2002) is part of a trilogy of "urban inspired" sounds, mostly coming from the commuter experience in Chicago. It's an impressionist piece full of American energy and bursts of tonal expressions of factories, cityscapes, farms passing by, iron bridges, etc. It works, and when the trilogy comes together in the future it might make for a tasty concert piece.
Still Life (2004) is even better. It's also an impressionist piece, but slow and modulated more carefully this time. No orchestral fireworks here, merely a song-like oboe (Miroslav Safar) framed in melodic lines straight from Vaughan Williams or John Ireland.
Skyscrapers (2001) is much less inventive, as if the composer wrote it to prove he could. After Electric Traction and Still Life the man clearly has nothing to prove (and he should give up trying).
The piano works here pose different problems. Fantasy Pieces (2001) is not particularly inventive; all of it has been done before. The Melancholy Rags, Book I (2000), are works that Mr Hutter can probably crank out in his sleep—but what wonderful music! He clearly understands what a rag is and he also has the feel for them. I want more of these things!
I think we'll be hearing from this composr in the future, but he needs to get the crustiness of modernism out of his system. If he hasn't quite found his voice yet, he's got time—and talent. He'll get there.
SECOND CHILDHOOD • Matthew McCright (pn) • INNOVA 739 (56:47)


STARK Five Preludes. HUTTER Evening Air. BROBERG Constellations. HALLE Lullaby. Second Childhood. NASS Dance Preludes. CAVIANI


Matthew McCright is an American pianist who graduated from Westminster College, the conservatory at the University of Cincinnati, and the University of Minnesota, where he earned his doctoral degree. Currently on the faculty of Minnesota's Carleton College, he has fashioned a career that revolves around the performance of music by living composers, which he has played throughout the country (though I'd suggest he keep his day job). This recording is the result of a concept devised by McCright to create a program of music written for him by composer-friends. Each piece is intended to evoke some aspect of the pianist's youth—hence, the title of the disc.


Most of the music on the program draws upon, or veers close to, vernacular styles, ragtime in particular, so the listerner's receptiveness to this style, in its more domesticated distillations, will probably influence the degree of appeal it holds. Rags are contributed by Gregory Hutter, John Halle, and Daniel Nass. Hutter's is especially touching, as it captures the poignant undercurrent that makes ragtime more than a one-dimensional form, without diverging far from its conventional roots. There are tangos, waltzes, and other familiar dance styles as well. Daniel Nass's offerings seemed a little too close to the essential templates to be interesting, although there are occasionally surprising harmonic twists. Halle's Lullaby is pleasantly insinuating, but the more ambitious Second Childhood, the symbolic and eponymous centerpiece of the whole program, is more fully evolved, displaying some delightful and clever rhythmic felicities.


I found Bruce Stark's Five Preludes among the most appealing offerings on the disc. Descended from the long tradition of piano preludes, his contributions draw largely upon impressionistic harmony, and are improvisatory in character, with some reminiscence of jazz pianist Bill Evans. I found No. 5 especially impressive. Kirsten Broberg's Constellations touches upon McCright's interest in astronomy, and is probably the one offering that has virtually no vernacular reference. Her piece, which is a little over-extended, nevertheless produces some mysterious and alluring harmonic sonorities, along the lines of later Scriabin. Laura Caviani's Jazz Etudes comprise a blues, a tango, and a boogie-woogie. They are a little too close to their vernacular roots for my taste.


Every piece is played with a great deal of gusto as well as finesse. Readers who are attracted by the concept are likely to find the disc a pleasant experience.
Matthew McCright's Second Childhood is meant, overall, to evoke some of the memories of hearing, and playing, piano music while growing up, and I can't say whether it succeeds at that or not but it is transporting, with music that is sophisticated, sincere and a delight to hear. The pieces, all requested by the pianist specifically for this recording, have a clear, simple appeal and a musical, intellectual and emotional maturity that they wear lightly. The most prominent style of music is the Rag, with excellent examples from Gregory Hutter – "Evening Air" – John Halle – "Lullaby" – Daniel Nass – "Rag" is the last of three "Dance Preludes" – and Halle's concluding "Second Childhood." The Rag is one of the great American musical styles, woven like a secret code through so much of the popular and art music that has come since its formulation in the late 19th century. It reaches deep into the imagination, in a place where we hold our innocent ideals about life, what we see in it and wish from it, and especially how we see our lives as Americans. It's not dead, but has been keeping a low profile in contemporary times, mainly through the wonderful Rags of William Bolcom. The ones McCright plays are fine, balancing a specific devotion to the form and style with a great deal of quiet, wistful grace, especially in Hutter's piece, and some well-managed compositional deconstruction with Halle. McCright plays them with an ideal feel for the rhythms and voicings. Nass' other preludes are witty examples of the "Waltz" and the "Tango." There are other dances in Laura Caviani's "Jazz Etudes," "Blues," "Tango la Falda" and "Matt's Boogie," and these pieces, like Bruce Stark's &ldbquo;Five Preludes for Piano," nail the exact balance between style and composition; they capture the qualities of the popular musics while being finely made, free of the sense of slumming that too many composers cannot escape when they try their hand at popular forms. Some of Stark's material is as good a composed depiction of what Keith Jarrett does as I've heard. The most compositionally abstract piece is Kirsten Broberg's "Constellations," which takes the idea of a Debussy Prelude and strips it down to it's almost mechanical essence, the fingers latching onto the most fundamental component and running through it almost to fatigue, but not quite. It's what a child might do with a single passage within a larger piece, one that they find particular fascination in. A fine recording, perhaps the result is less a depiction of childhood than how we, as adults, look back at what we remember and cherish but can never recreate.